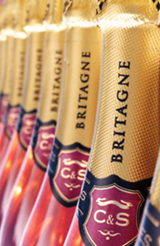 The mere thought of "English wine" may sound like an oxymoron. But 400 vineyards now produce grapes for wine, much of it sparkling.
Should British bubbly be called anything other than "English sparkling wine"? Christian Seely, a partner in Coates & Seely, a producer of sparkling wine in Hampshire, recently told Decanter.com that calling it simply "English sparkling wine" is "like calling a Jaguar a Smart British Motor Car." (Presumably, he doesn't mean to imply that English sparkling wine has foreign ownership the way Jaguar is now owned by Tata Motors.)
Seely proposes the name "Britagne" and has emblazoned the term on the neck of Coates & Seely bottles. The preferred pronunciation, however, is not "Brit-ane" to rhyme with Champagne, but rather "brit-an-yuh," as in Rule Britannia. It turns out that there's not consensus on the term as another has been floated: Merret. Apparently Mr. Merret was a pioneer in the nascent industry. But the bookmakers are giving this term long odds despite the fact that it rhymes with claret.
What do you think? Since the use of the term Champagne is prohibited for bubblies made outside the Champagne region, other terms such as cava or Sekt have been popularized. Come to think of it, California sparkling wine doesn't have a category name. Given our love of acronyms, such as driving your SUV in the HOV to the ATM, I'm surprised it hasn't it hasn't come to be abbreviated CSW. But anyway, back to Britagne–what do you think? I am pessimistic that any one term will work.

Loading ...