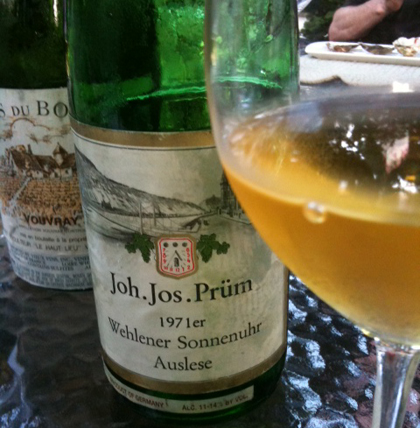 With the year almost half over (um, where did it go?), I thought it about time to post about a few memorable wines that I've tasted so far this year.
First among these needs to be the J.J. Prum, Wehlener Sonnenuhr, Auslese, 1971. In the vernacular of the day, the wine is epic, though not an #ecpicfail mind you but an epic success. Forty years young, I've had the good fortune of tasting the wine twice this year. The first was in Vegas celebrating a high school friend's fortieth birthday party. I saw it on the list at Lotus of Siam and had to buy it for him. Although he's not that into wine (it does happen from time to time but he's still a great guy), he loved the wine as did the others in our group who don't even usually drink white wine. It was really fun to reach back in time the way wine can so joyously. My buddy tells me he keeps the empty bottle on his desk.
I had the wine again recently (actually, it was the "gold capsule" bottling this time) with a small tasting group and it was singing. The wine is a golden color with a deliciously honeyed nose, terrific purity, weight, and an astoundingly integrated blend of acidity and sweetness. Truly, if you remain unconvinced about the soaring greatness of Riesling, get your hands on one of these bottles. Among the world of collectible wines, it remains a relative bargain for the superb quality.
Search for this wine at retail