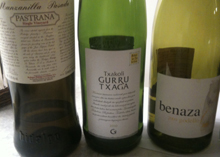 A group of friends that know each other through their sons' school has a tasting every so often. I've been fortunate enough to lead the smart and fun group in about ten tastings over the past couple of years. Our most recent tasting explored the exciting category of Spain beyond the fruit bomb, focusing on indigenous grapes, values, and/or off-the-beaten-path regions.
We started with a manzanilla pasada, Pastrana vineyard, from Hidalgo La Gitana ($28). Sherry gets a bad rap and usually conjures up images of men in tweed sport coats with elbow patches sitting in leather-bound dens. But this sherry–and other manzanillas–is a kind of transformative sherry, one that changes your opinion of a whole category of drinks. I anticipated that about half the people would like it; instead, everyone really liked it. The sea-breeze, iodine character with faint oxidation yet freshness (odd combination to fathom, but it was there) really got the evening off to a great start. Pairing with marcona almonds was ideal. As we moved to the table, we had an incredible feast of Mediterranean (mostly Turkish, actually) delights.
Next we had an invigorating white txakoli, the Gurrutxaga 2010 ($19). The faint fizz and the snap of acidity made this also unanimously praised. We followed this with Do Ferreiro, an exceptional Albarino 2009 ($23) from Rias Baixas that we have discussed previously and it too was unanimously praised. Yay, three for three so far!
Then we encountered our first disappointment of the night. I poured the good value godello from Benaza ($13) in all the glasses and as our hostess smelled it, she wondered aloud if there wasn't something a little bit wrong with it. Alas, it was corked. Encountering a corked wine is always a disappointment but in this case it was a teachable moment! People always love to know what a corked wine is so that they can send a wine back at a restaurant with brio, panache, and certainty.
We finished off the whites with Bodegas Maranones' Picarana blanco 2009 ($20), an Albillo from Madrid of all places. The grapes aren't grown in the Plaza del Sol, mind you, but in the surrounding area outside the capital. This wine saw some time in large barrels and was the fullest-bodied, highest-alcohol white in our lineup.
Our oldest wine of the tasting was the La Rioja Alta 2001, Vina Ardanza Reserva Especial. This wine is not made every year and for $33 it's a great value that the winery aged for you for a decade. The group liked the wine a lot.
We concluded with a duo of grenaches/garnachas. Returning again to the Madrid region, the Bernabeleva 2008 Navaherreros Tinto ($22), which impressed the group with its light color but full flavors. Sadly, the Buena Pinta 2009 ($22) from Manchuela was also corked. But at least someone from the group nailed it again!
Even though 25% of the wines were plagued by TCA, it was still a fun evening.
One final note: the eight wines came from six different importers, I think. There are so many importers (such as De Maison, Jose Pastor, Rare Wine Co and Louis/Dressner to name a few) bringing in fun wines from the small estates of Spain.
Search for these wines at retail