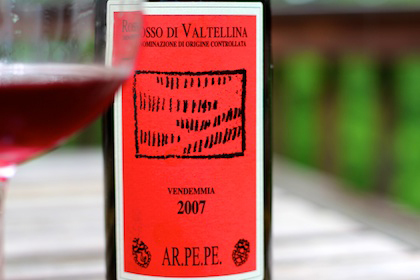 Nebbiolo, it's not just for Piedmont! Well, actually it is just for Piedmont (think: Barolo, Barbaresco) since there are so few examples of the grape outside the region. But consider this example from Valtellina, in the adjacent region of Lombardy, slammed up against the alps and Switzerland.
Perched at about 4,200 ft altitude, the vineyards of producer Ar.Pe.Pe. are so steep that the grapes are harvested by a sort of modified ski gondola! And their steepness so rivals Hermitage that they also have signs in the vineyards in between terraces! It sounds outrageously cool and I am putting this on my list of places to visit. Fortunately, we can taste the fruits of these vineyards in the US today.
Ar.Pe.Pe.–an abbreviation for Arturo Pelizzatti Perego, pronounced "are pay pay"–provides a tasty treat with its Rosso Valtellina, 100% Nebbiolo fermented in stainless steel with brief aging in old oak barrels. The traditional producer makes more expensive, longer-aged reds, but this entry-level wine is ready to drink. I threw it in a decanter just for laffs, served it at 55 degrees and the transparent, light red color was appetizing in and of itself on a summer evening. Delicate fruit, stoniness, and the alluring slight bitterness of Nebbiolo, combine to make this wine (about $30) a stunner.