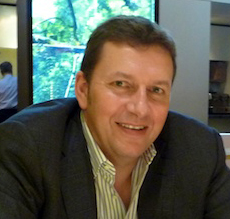 The petrol note sometimes found in young Riesling is a flaw according to Olivier Humbrecht. And we lack a better vocabulary for the petrol note that many Riesling aficionados cherish in older bottles.
The winemaker at Zind-Humbrecht in Alsace who makes 40 different wines a year commented in New York last week that the petrol note can be symptomatic of three things. The first is harvesting under-ripe grapes. Riesling needs 110 to 120 days to ripen, he says, and harvesting the grapes too early can lead to an undesirable aroma. Similarly, he says that machine harvesting can lead to off-aromas in the wine, generally called "petrol."
Second, Riesling is prone to reduction, a condition devoid of fruit aromas, and this can be mistaken as "petrol." Instead, it is simply not desirable. Winemaking decisions such as making the wine in airtight environments such as stainless steel or even old oak can, poor use of sulfur, or leaving the wine on the lees can make it prone to reduction. A good winemaker should be able to see these problems arising and take steps to mitigate them.
Third, there is a desirable form of "petrol" in mature Riesling but Olivier says the term is "ill-chosen." Given the choice, he would describe an earthy character as truffle instead of mold, as it's a more desirable to choose term. Similarly, he prefers to think of mature Riesling as having a character of wet stones, minerals, sea air, or iodine, all of which are more pleasurable than the bottom of a diesel tank.
"I hope to God that nobody would think that young Rieslings smell like petrol!" Wine drinkers should trust their gut instinct and if the wine's aromas are off-putting, then it is bad. Another way to tell if it is reduction: drop a copper penny into the wine (or swirl a copper wire) and see if the off-aromas disappear and fruit reemerges. Or try decanting it.