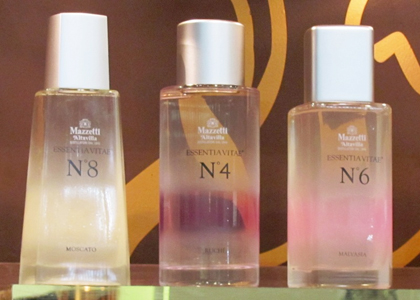 I'm going out on a limb here and say that women don't really want their wine in perfume-shaped wine bottles.
But that's just what the grappa distillery Mazzetti d'Altavilla is making with their new "Essentia Vitae." Here's what someone who hailed it as the packaging innovation of the week had to say.
"While perfume-inspired wine may be an acquired taste, Essentia Vitae goes further than most to connect to female consumers. Its perfume-like packaging should break through the crowded product assortments that can often confound shoppers."
Argh, those crowded product assortments confusing women wine shoppers! Apparently the wines come in three different flavors/aromas/varieties: No. 4 Ruche – jasmine scent, No. 6 Malvasia – rose scent, and No. 8 Moscato – violet scent. What that exactly means is not clear–are they for drinking or dousing?
My bold prediction: these will go the way of Beringer's White Lie and the French WineSight. Dammit, marketers, gendered approaches to marketing are best left to important things like razors blades and deodorants!
Search for this wine at retail