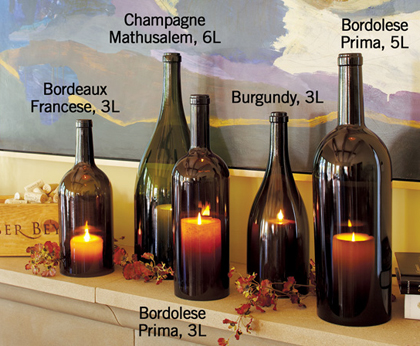 I got a catalogue in the mail the other day from something called Napa Style. I don't know if it's 100% from Napa or just sort of a Fred Franzia Napa style. But they had the item shown above listed as "big bottle wine hurricanes." Yes, empty bottles, albeit big bottles, priced $99 – $249!
How hard is it to cut a wine bottle and make your own "hurricanes" with big bottles left over from your last party or gotten from a restaurant? Not hard, it turns out. Check out the video below for details. Or, to save you ten minutes of your life, score (no points!) the bottle with a tool like this, then pour boiling water from a tea pot over the score line and the glass has a super clean break, apparently.
Voila. Now, if you like this sort of decor and feel a tiny bit artsy-craftsy, you can spend the $249 on bottles that actually have wine in them, not candles.