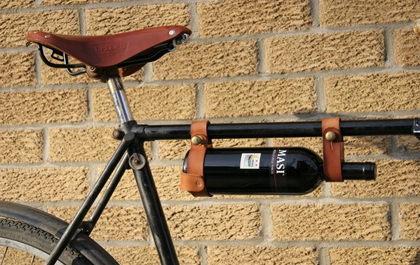 Have you ever been cycling home and thought, "Gee, I'd love to stop at that wine store but I have nowhere to put a bottle because I do not have a backpack or paniers or a basket or anything!" Well, this clever little gizmo available on Etsy will solve all your problems! And if you are commuting in New York City and a cab cuts you off, well, that wine bottle might just come in handy too.
One caveat: probably not great for Champagne. Unless you are seeking to turn the cork into a projectile.
When do the companion baguette holders come out for handlebars that turn your bike into a sort of Longhorn?
Hat tip: bottlenotes.