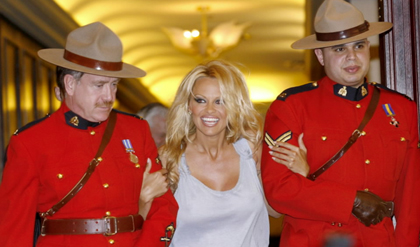 He's not going to rank up there with Rosa Parks. But Terry Mulligan is trying to have his illegal actions make a larger point.
The Canadian "media personality" is willfully transporting wine across provincial lines. According to this story, he will stand on the border on May 13 and take a bottle of wine made in British Columbia into Alberta. Then he will take a bottle of wine made in Ontario back into BC with him. Such activity is illegal. But he will let the Mounties know in advance! The lack of intra-provincial shipping is "killing small, boutique wineries" and the Liquor Control Boards amount to "a cash grab" and are run by "bullies," Mulligan says.
Sure, the event is choreographed. But just imagine if an American celebrity stood up for sanity in wine shipments in a similar way? Will Oprah have a case of wine sent to her condo in Chicago from an out of state retailer (which is illegal) and have the cameras rolling when it gets there? Or a chef like Grant Achatz? Or Martha Stewart who actually markets a wine? That would certainly bring a lot attention to the matter.
On a related note, the WSJ weighs in on HR 1161 with an editorial in today's paper. Nugget: "CARE will reduce choices and raise prices for consumers."