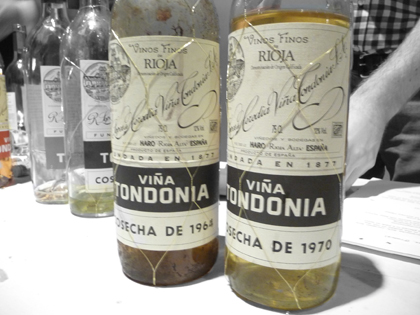 Why pay en primeur prices for young Bordeaux that won't arrive for two years? A case against en primeur certainly comes in the form of the traditional Riojas from R. Lopez de Heredia.
One of the few remaining traditionalists, Lopez de Heredia is known for outrageously long bottle aging in their legendary cellars prior to releasing the wine. Consider that their current release rosé is from the 2000 vintage (ten years older than the current release from Provence).
I tasted through their lineup at the recent tasting of their New York distributor, David Bowler. Unfortunately it as a mere tasting, not a drinking or a lingering. But it was deliciously fun snapshot. The table is always swamped with sommeliers and wine buyers as the wines are wildly popular, so much so, some of them were saying that the estate has raised prices recently as demand exceeds supply. Still, the wines are terrific values considering that apartment-dwellers with no wine storage can pick up beautifully aged bottles with ten, twenty or forty years of age on them. If Bordeaux pre-sales irk you, then consider Rioja, where some of the producers age the wine for you! (Given the success of Lopez de Heredia, I'm surprised that Rioja producers aren't falling over themselves to go back to these traditional methods en masse.)
The whites are slightly oxidative, which makes them more often than not, wine geeks' wines. The 1993 reserva (about $50) is an excellent place to start with nutty aroma yet freshness on the palate. But the apogee of the white experience comes with the much older Gran Reservas and the '73, '70 and '64 (all from the Tondonia vineyard) were available. As you can see in the photo above, the colors started golden and got progressively richer. Unfortunately, I don't have detailed tasting notes but they included jottings like mmm, truffly, nutty, amazingly fresh, long finish.
On the red side, the 2002 reserva from the Bosconia vineyard has brick red at the rim, notes of maturity, and elegance. About $30 a bottle, I subsequently poured this one in my NYU class and it polled about 80% popularity (actually, I correctly remembered later that this was one of our unanimously liked wines from the other evening). But the real big guns were the older Gran Reservas. My wife and I had the 1981 Bosconia Gran Reserva at our tenth anniversary dinner, over a year ago, and I remember it well. Such elegance and refinement all for about $150 in a restaurant (although that's now about the retail price). And it continues to show very well today.
But the trio of rarity at the stand-up tasting were some Gran Reservas from the sixties. Again, no formal tasting notes, just impressions: puffs of tobacco, a note of salinity, a touch of red berry, and nutty note of faint oxidation. They were all drinking so well, with such poise, delicacy, and complexity. I was ready to pull up a chair right there and spend the rest of the afternoon evaluating and enjoying them; tasting them made my day.