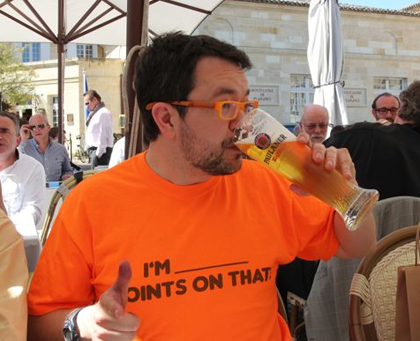 SIPPED: the zany
Hardy Wallace (above) dropped in on the en primeurs tastings and handed out his scores ranging from 101.00 to 102.36 points in .17 point increments. He gets the award for best T-shirt! [Dirty South Wine]
SIPPED: three cask monte
Jancis Robinson provides a primer in the various ways that samples at the en primeurs tastings can be manipulated to show their best.
SIPPED: discrimination
Wendell Lee, general counsel at the Wine Institute, provides a further look into insidious nature of the apparent simplicity of HR 1161, a bill that would drastically affect wine shipping by reverting to regulations that pre-date Prohibition and supersede the Commerce Clause. [ShipComliant]
SIPPED: branding
The Food Network releases their own branded wine. Only question: do you drink it with food, or with TV (if at all)? [Eater]
SIPPED: peace
Serbs and Croats beat their swords in to pruning shears at a winery project in Bosnia. "Working in a vineyard is like therapy, it helps a lot (to forget about the war)." [Reuters]