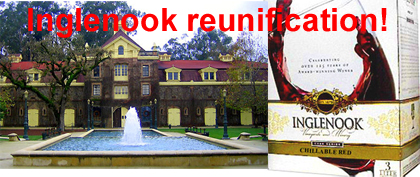 Francis Ford Coppola is pulling a daring business move: renaming his wine estate after a box wine.
Of course, for Inglenook, it wasn't always that way. The property is one of the oldest in Napa Valley, founded in 1879, and its image was burnished in the middle of the twentieth century by John Daniel who produced some lauded cabernet sauvignons. But then it was tarnished as the brand became separated from the estate and winery and came to make and market wines such as "Burgundy," "Chablis," sangria and–wait for it–"Sunset Blush."
So it is a challenge that the director of The Godfather has taken on, one that must hearken back to a black-and-white era, while encouraging consumers to forget the intervening decades of jugs, boxes and blush. Do you think he can do it? Do you care? Oh, and to signal his quality play, he also hired away the winemaker from Chateau Margaux (but he has not purchased the Napanook vineyard, which contributed to Inglenook in the 40s and 50s). I think that he could do it with lots of nostalgia marketing, but it will take decades to break the box/jug association. And, by then, we could see if the wines were worthy of John Daniel.
Fun fact: in 2009, WBM estimated Coppola made 900,000 cases of wine, making it the 17th biggest winery in the US.
Related: "Coppola makes leading wine expert a deal he can't refuse" [Marketplace]