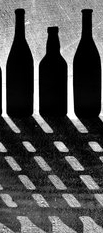 SIPPED: a big platform
The political and legal issues of direct shipping of wine, specifically HR 1161, got a big airing on today's op-ed page for the NYT. Hopefully more wine consumers will see the law for what it is thanks to this piece and join the effort to stop HR 1161.
SIPPED: more details
Antonio Galloni's recent event, the Festa del Barolo, gave consumers the opportunity to mingle with 15 Barolo producers and taste their wines, old and young, for $900. Mike Steinberger spoke with Galloni at length about the event and how it squares with the Wine Advocate's ethics policy. (A related discussion popped up on wineberserkers.) Also, if you haven't discovered Mike's blog, it's certainly the best new wine blog of 2011.
SPIT: murder
Vanity Fair has a piece on the attempt to poison and ransom vines at Domaine de la Romanée Conti. Funny, I remember this story from when it happened and it didn't strike me as worth the Vanity Fair treatment. Apparently Aubert de Villaine didn't either since he spoke with the author "most reluctantly."
SIPPED: wine fun fact
Stan Kroenke, owner of Screaming Eagle, owns the Denver Nuggets and 29% of Arsenal, the football club, among other teams. I'm sure they pour Screagle in the locker rooms! [wikipedia]