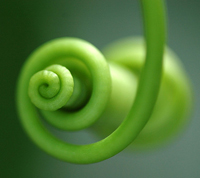 A French scientist has determined a way to evaluate the quality of the next Bordeaux vintage–vintage 2011, that is.
Jacques Meganote, a researcher at INRA in Bordeaux, has collected samples from the tendrils the vines in the region have shot out already this year. Using a complex blend of mass spectronomy, DNA analysis, carbon dating, and weather history, he is able to forecast the quality of the vintage that has yet to be harvested–in fact, the vintage that has yet to grow a grape. The program is called "Bordeaux shoots and scores."
"We are certain to 99% level that our forecast is accurate," Meganote said. "We have been collecting it privately for five years now and this is the first time we have released the data."
After two vintages widely praised, the Bordeaux wine trade will doubtless like his forecast for Bordeaux 2011.
"The concentration in the berries will be superb. This looks like a vintage that possesses both power and elegance. It will be a vintage of the century. Truly, a 99 point vintage."
The next step in the program will be to pre-score individual wines.