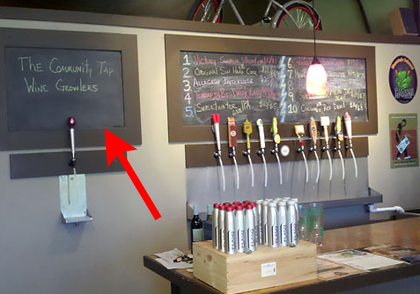 Remember the "Fill 'er up" wine from a tank?
Sadly, there have been no US entrants to this space in the scant six months since we posted despite a lot of interest. However, the NY Times recently observed that the Community Tap in Greenville, SC (photo, above) is offering wine-to-go as wine "growlers" akin to the 64-oz refillable beer bottles. Fruit-forward wines may be fresher with a keg than some bottled wine closures but unlike some craft brewers, all craft wineries bottle their product so the benefits would mostly be environmental and cost-savings. I think a large part of the appeal is the value aspect thus the $16.99 for 32 ounce strikes me as high, even though it is the same price as a 750-ml (25-0z) bottle. Part of what drove the popularity of the post on self-serve tanks in French grocery stores was the rock bottom pricing, I think. Unfortunately, the various markups of the three-tier system make that an uphill struggle in the US (except, possibly, at wineries).
I tweeted about wine growlers in the US and the twitterati could not think of other bars or stores that yet to offer these. (Can you?) However, a few wineries do allow growler-type refills; the NPA in Sonoma offers wine in refillable "kleen kanteens."
What's the most appealing part of self-serve wine to you–environmental aspect or the cost savings?