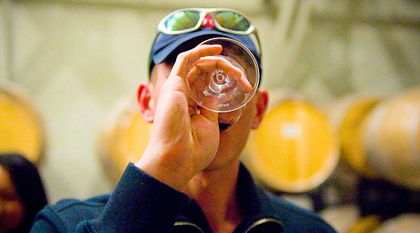 Jancis Robinson floated a novel idea on her website last week: what if critics, who descend on Bordeaux shortly to taste 2010 barrel samples, withheld their scores until the Bordeaux trade had finished their pre-sale campaign (known as en primeur)? The logic is that high scores for what is already an extremely hyped vintage would only drive prices higher.
Predictably, Robert Parker of the Wine Advocate and Tom Matthews of Wine Spectator poured cold water on the idea, as republished on Jancis' site. Given that this is a classic prisoner's dilemma, if Jancis admirably remains silent while other critics publish, it only hurts her since she loses influence. The embargo would only work if all critics agree to remain silent, which is not tenable in the real world, where there's an incentive for each critic to publish first, getting his or her views circulating, and driving the discussion. Suckling often did that when he was at Wine Spectator getting in to tastings before the crowds of the en primeurs tastings and publishing his report more or less immediately (Parker's report usually comes out after en primeurs, at the end of April).
Although it's unworkable, would an embargo from critics serve to bring en primeur prices down? Perhaps, especially in less anticipated vintages such as 2008, which was also being pre-sold during an economic meltdown. Although still an important part of the Bordeaux sales machine, critics' scores may not as important as brands themselves as this Liv-Ex analysis shows.