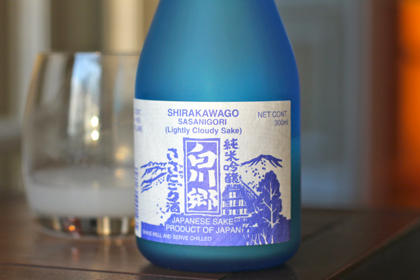 It's "drink sake night" tonight, and since I have other plans, I hopped on it last evening. I figured it was the least I could do after suggesting you try a sake last week to help out the brewers hit by the earthquake and tsunami.
It was a fun challenge because I don't know much about sake. Sure, I wrote a story about sake but that was eons ago and learned about rice polishing and the importance of yeast. But I've had little since. So it was a good experience since I got to go to a new corner of Astor wine store and approach shopping as a newbie.
As such, I was attracted to packaging, notably these cute single-serve cups. But were they too gimicky? I had to ask for help. The helpful clerk assured me that they were actually pretty good, even if slightly gimmicky. I felt as though I needed a bottle. But not a whole one since I didn't think it would be too popular at home. So, any good half bottles? Yes, he steered me to the Shirakawago Sasanigori Saké, Junmai Ginjo Nigori in a distinctive blue bottle. He said it was a good starter one for someone who likes high-acid wines. Sold!
At home, I shook it well and served it cold, as the label suggests. The milky, cloudy sake poured into the glass. As I swirled it, some of the unfiltered goodness was left on the side of the glass. The prevailing aroma to me was alcohol, but getting beyond that is a white flower and slight licorice note. On the palate, it is pretty rich–sort of a steamed rice crossed with Pastis–but also interesting enough to keep me sipping.
This brewery is in the landlocked Gifu prefecture, about 500 miles from Sendai, a place where we are all hopeful that some semblance of normality can return one day soon. Although, since pure water is also a key ingredient for sake, that day may, tragically, be a long way off, making a sip of any sake in New York today especially bittersweet.
If sake aficionados have suggestions for people lifting a glass of sake tonight, feel free to hit the comments.