Raj Parr is the wine director at Michael Mina's restaurants and a partner at RN74, a Burgundy-centered restaurant in San Francisco. When RN74 opened a couple of years ago, Parr drew attention by saying that he wouldn't carry pinot noirs or chardonnays over 14% alcohol.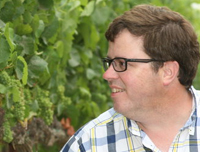 So, as we mentioned earlier, it was interesting that Adam Lee of Siduri Wines (pictured, right, via Facebook) got up to a little skulduggery (as Jordan Mackay tweeted when it happened). The NYT details that at a recent panel discussion and tasting about balance in pinot noir, Lee presented a 13% and a 15% pinot noir of his to the audience. Parr apparently leaned over to Siduri and said that he'd like to purchase some of the 13% wine. Lee then told Parr that he had, in fact, steamed off the labels, so the wine that Parr had just requested to buy was the one over 15% alcohol. Ta-dah! With Parr's permission, Lee told the audience what had transpired. (After speaking with someone who also attended, the audience wines appeared to be correct and untampered with.)
So, what to make of this? To me, dogma is the big loser here. Sure Parr got punk'd. But he has the confidence to immediately laugh off Lee's ruse and let Lee share what transpired with the whole room. Further, even though Parr drew a line in the pile of pommace about alcohol levels a couple of years ago, based on a tasting with him last month, I'm inclined to believe that he's not as dogmatic as the RN74 policy makes him seem.
What's your take on what transpired?
"The Gadfly in the Pinot Noir" NYTimes.com