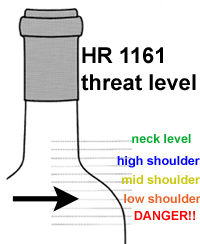 Last year, a rag-tag coalition introduced a piece of legislation that threatened wine shipments. It's not even Halloween but the scary news is that, like Poltergeist II, this horror show is baaaaaack.
Now known officially as HR 1161, and unofficially as the Wholesaler Protection Act, the bill seeks to restrict legal challenges to the interstate shipment of wine (and beer and spirits) and keep the legislation that affects wine shipping at the state level. The reason that's scary is because the judiciary is the consumer's best ally in the fight to liberalize wine shipments–with more options to purchase wines, many consumers will get lower prices and a better selection than what is available in their local markets. Legislators, desperate for (re)election, frequently accept donations from wholesalers who seek to prevent freeing up trade in wine. The Beer Wholesalers wrote the legislation last time and the text is virtually identical this time.
The Wine and Spirits Wholesalers Association recognizes the threat that the judiciary poses to their well-lubricated legislative machine. Craig Wolf, the WSWA head, said "We are supporting this legislation in an effort to ensure that policy disputes are resolved by local elected officials rather than unelected and unaccountable federal judges." Yes, those pesky federal judges who don't have expensive campaigns to fund! Needless to say, beer and wine producer groups object to the legislation (here's a letter they co-signed last month).
We are bringing our threat-down level on this issue two notches closer to danger and disastrous ullage levels. Why? Well, not only did last year's bill gain a high number of co-sponsors, it actually got hearings in the Judiciary subcommittee. With the party change in Congress, John Conyers (D-MI), recipient of beer wholesaler funds, is no longer chairman. So say hello to Lamar Smith (R-TX) the new committee chairman! His fifth largest corporate donor is the National beer Wholesalers Association.
How far will the legislation go in this 112th Congress? Nobody knows on this issue that does not cleave along party lines. But don't bet against it going farther than the last bill.
Follow the Stop HR 1161 page on Facebook to keep up with the latest developments.
H.R. 1161: Comprehensive Alcohol Regulatory Effectiveness Act of 2011
Sponsor: Representative Jason Chaffetz (R-Utah)
Co-sponsors: Bruce Braley (D-Iowa), Howard Coble (R-N.C.), John Conyers (D-Mich.), Ted Deutch (D-Fla.), Jim Jordan (R-Ohio), Dennis Ross (R-Fla.) and Debbie Wasserman-Schultz (D-Fla.)