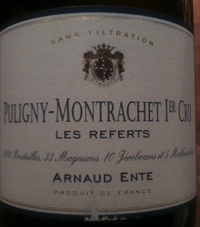 It's not every evening I get to taste ten white Burgundies with a decade or so of age. For one, they're often expensive. But they're also a category that has not been aging well in the bottle, thanks primarily to the issue of "premox," or premature oxidation, the cause of which is little known despite plaguing bottles since the 1996 vintage. So I delighted to have the chance to taste through several bottles at a collector's house recently to assess the risk and reward of white Burgundy. From this admittedly small sample of premier and grand cru wines from good vintages, I'd say the risks outweigh the rewards. One factor is that the wines are quite expensive, almost calling out for cellaring; bright, fresh acidity can be found much less money with Bourgogne blanc (or Chablis), for example. So it is frustrating when wines that appear fresh in the first lap of five years or so after vintage, appear to grow tired too fast.
What's your assessment of the risk and reward of white Burgundy?
The whole lineup—complete with a surprise!—follows after the jump.
Francois et Antoine Jobard, Meursault, "En la Barre," 2002: only slightly oxidized, but still too tired at this young an age.
Ballot-Millot, Meursault Perrieres, 2002: oxidized.
Bernard Morey et Fils, Chassagne-Montrachet, "Les Embrazées," 2003: from the hot vintage, the wine was flabby and a little tired.
Marc Colin et Fils, Chassagne-Montrachet, "Les Chenevottes," 2003: fresher than the Morey, not oxidized, but I just couldn't get into it.
Arnaud Ente, Puligny-Montrachet, "Les Referts," 2004: the oak hadn't fully integrated yet, but the wine had good freshness and still seemed to have the potential for more rewards in the future.
Vincent Girardin, Puligny-Montrachet, "Les Referts," 2002: a honeyed note on the aroma and an oily texture on the palate made this seem more like a white Rhone.
Bernard Moreau et Fils, Chassagne-Montrachet, "La Maltroie," 2004: good acidity and noticeable oak, this wine is built on a chassis of acidity that seems to bode well for future aging.
Colin-Déléger Chassagne-Montrachet, "En Remilly" 2004: really funky nose that was offputting; the palate was
BLIND: our host poured these two wines to us blind, calling them both grands crus.
Domaine Jacques Prieur, Corton-Charlemagne Grand Cru, 2005. Another wine that seemed oddly Rhone-like and advanced. I didn't have a specific guess on this one but when the bottle was unveiled, I was surprised and disappointed that an 05 grand cru showed this poorly.
Kistler, Sonoma Valley, Durrell Vineyard, 2004. Really golden in the glass. Alcohol jutting out a bit. The oak was still pronounced. I said it seemed as if it were worked harder in the cellar than in the vineyard. I guessed Marcassin.