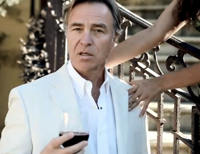 SIPPED: more Zin Man
The ad about Zin man, riffing on the Old Spice guy, got a big thumbs up from all of you. So I asked the Paso Robles folks for a few more details about their ad. While they wouldn't provide details about how much it cost, they did say the ad was shot in Paso Robles using a professional actor (not a vintner) as the star. They are planning 8-10 more ads this year.
SPIT: Celebrity status
Out of disbelief, a wine store clerk in Manhattan refuses Matt Damon's credit card for the star's impulse purchase of $1,200 of wine, insisting that he pay cash. Which store was it? And which wine was it? [latimes with video]
RUNG: alarm bell
A French researcher warned a Bordeaux trade group this week that the region will be too warm to grow red wine grapes to long-lived wines–by as early as 2050. When will Norway develop a premier cru? [AFP]
SIPPED: foreign takeover
Concha y Toro, Chile's #1 wine producer, is buying Fetzer's three million case production for $238 million. How will this affect consumers of Bonterra, or Fetzer's other brands? Probably not at all. Concha y Toro shares in Santiago were up 7% on the news. The Chilean currency has appreciated by 21% against the greenback in the past two years. Will other domestic wineries be in the sights of foreign companies? [WSJ]
SPIT: critter labels
In case we needed any further indication that critter labels have jumped the shark right off the wine bottle, Yellow Tail is now suing a more recent arrival for infringing on the wallaby. [WSJ]
SPIT: counterfeiting?
The BBC explores laser bottle etching, stealth mineral placement, and bubble codes at Chateau Margaux, all weapons in the current fight against counterfeiting. Whether these measure can outsmart fraudsters remains to be seen.