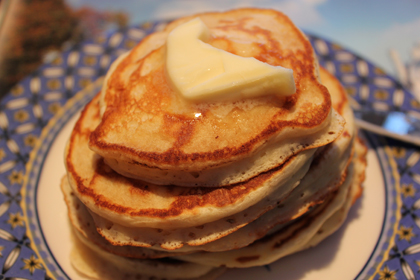 It's National Pancake Week starting March 1–who knew? The timing coincides with the week before Mardi Gras, since pancakes have been a temptation worth avoiding during lent for 2,000 years now.
Site reader John G. requests that we get a jump on this hedonism a little early. I'm a pancake purist myself making them from scratch since it is so easy and tasty. After many years of suffering through inferior syrup (and–be damned–fake maple syrup!), I've discovered Grade B maple syrup. Darker in color and richer in flavor, it's the best kept secret in syrup because the "B" thing reeks of inferiority. But don't be fooled, it's the real deal and well worth the tariff.
As to the pairing, I think nothing goes better with a stack of pancakes than a cup of hot, black coffee. But perhaps you are more daring than I. What do you think–which wine would you pair with pancakes, or is it impossible?!?