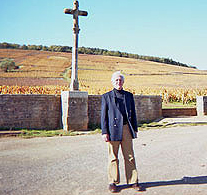 Hennie van Vuuren (right) suffers headaches after drinking young red wine. As a result, the professor in Biotechnology at the University of British Columbia has spent a large part of his professional life researching why. His solution: ML01, a genetically modified yeast.
It's a coincidence that as Mark Bittman laments the lack of labeling of GM foods at nytimes.com, a story making the rounds in the Canadian press touts a "new" strain of genetically modified yeast for wines called ML01. According to the Vancouver Sun story by Randy Shore, ML01 is so prevalent that "If you drink red wine from the United States or Canada, there's a good chance you've tried ML01 wine already." You wouldn't know about it because of the lack of labeling requirement.
I corresponded with Hendrik van Vuuren to learn more. He says that it took him 15 years to develop ML01 before he released it commercially in June 2003. He undertook the research at Stellenbosch University as well as the University of Guelph, and at UBC in Vancouver; the three institutions share in license royalties from the sale of the yeast. He said that he will sell about 2,000 kgs of yeast this year, available only in commercial-sized quantities. Asked to describe how much wine this would make, he replied that it can make "approximately 100,000 liters of wine, not enough wine for one fair sized city in Canada!" He added, "It is a complete over statement that wine produced with our yeast is prevalent in US and Canadian wines." ML01 is currently approved in the US, Canada, and South Africa; van Vuuren says he is applying for approval in the EU.
Histamines are one of 20 biogenic amines produced during winemaking, according to van Vuuren, particularly during the conversion of strong malic acid to softer, lactic acid of (mostly red) wines known as malolactic fermentation. ML01 eliminates the need for a malolactic fermentation. Here's how van Vuuren described the amines in an email:
The presence of biogenic amines in wine can be of great concern for consumers since these compounds produce undesirable physiological effects in susceptible individuals, including myself. Histamine is known to cause headaches and other allergenic symptoms such as, hypotension, edema, palpitations, flushing, diarrhoea, and vomiting. Tyramine and phenylethylamine have been associated with migraines and hypertension. Biogenic amines are also linked to carcinogenesis. Filtered wine made with ML01 does not contain any yeast.
However, as we have discussed before, whether amines in wine cause allergic reactions remains open for debate. One clinical study found no correlation between the two. The Oxford Companion to Wine writes that histamine "was once thought the cause of some people's allergy to red wine [but] improved methods of wine analysis have demonstrated that the amounts of histamine in wine are at least an order of magnitude below that required to cause an allergic reaction in the majority of people." Asked twice via email if he could point me to a study that found a correlation between amines in food and allergies, van Vuuren did not reply.
Amines also appear in many foods, including nuts, cheese, cured meats and dark chocolate.
Because van Vuuren suffers severe headaches from red wine, I asked him what's a red wine that he enjoys. Surprisingly, he rattled off a few: "I love the 1953 Ch. Margaux, 1961 Lafite, 1978 Guigal La Mouline, and the 1989 Haut Brion." When I pointed out that these were not made with ML01, thus loaded with amines, he responded, "Fortunately I don't get headaches from well-aged wines – I believe bioamines are not stable over such a long period of storage."
So although there remains much to disentangle between cause and effect for red wine headaches, there's one solution beyond abstaining that even van Vuuren endorses: take two decades (in the cellar), and call me in the morning (after).