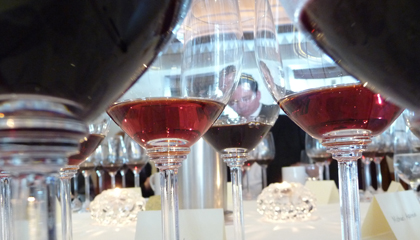 On Wednesday, Adrian Bridge, managing director of Taylor-Fladgate, unveiled to New York wine writers a new port. Or make that an old port: it was made in 1855, before phylloxera ravaged European vineyards.
An elderly lady of a "respected family" in the Duoro recently died with no heirs. She left much of her estate to Portuguese social security and the lawyers wanted to sell off the casks of old port to liquidate assets. Family records showed that the casks dated to 1855, a single vintage tawny, or cask-aged style. (Technically, a Colheita, a single-vintage, cask aged port. Vintage port, by contrast, does most of its aging in the bottle.) Through evaporation, the wine became concentrated yet the casks contained enough port to fill 1,400 bottles. The management at Taylor originally purchased the casks to add to their 40-year-old tawny, but, upon tasting it, they decided it merited a special bottling and have done so calling it "Scion." In case you were thinking about picking up a six-pack on the way home for work–at a mere $3,200 a bottle, more than Krug Clos D'Ambonnay!–think again, since only two hundred bottles are destined for the US market.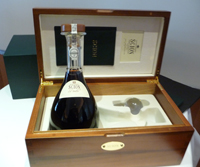 As you can see in the above photo, the Scion (middle glass) was even darker than the the 20-year-old and 30-year-old Tawnies in the glasses to either side of it. The aroma to me was subtle and, no doubt as a result of my being influenced by the story of casks reposing in a cellar, smelled sort of dusty more than anything else. But after some swirling, I was able to coax out some of the plummy complexity. On the palate, the wine was very much alive. The acidity was really striking for such an old wine, a fact that may come from different grape varieties, more likely, from a cool cellar, Bridge said. The wine exhibits some toffee, dried fruit notes, spice, faint orange zest, coffee grounds and not much sign of oxidation–surprising complexity for such a mature wine. And a rare treat to be able to drink it.
More to follow in a future post about their other, affordable tawnies.