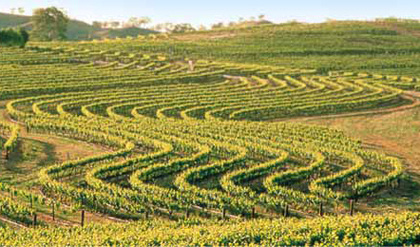 The Contours vineyard at Pewsey Vale, Eden Valley.
The Seppelt Drumborg Riesling 2010 has the fresh lime aromas of a young Aussie Riesling. But on the palate, the dry wine is tightly wound, wrapped in a crunchy, almost impenetrable shell of acidity. By contrast, the 2003 vintage of the same wine is much more accessible, with toasty almost honeyed notes, and a much rounder texture.
The Australians like their Rieslings young, fresh and dry. Wednesday, at a trade tasting in New York City, I tried six Aussie Rieslings from the 2010 vintage–yes, 2010, as in that year that just finished 28 days ago. But these weren't first-release sort of wines as they included big guns such as the complex Grosset, "Polish Hill" bottling, widely acclaimed as the standard-bearer for the category. The wines had a gum-tingling acidity that that sometimes was crackling, electric fun (for me, the Frankland Estate Riesling) and sometimes too austere with subdued aromatics.
The question arose of whether Australian Rieslings need more bottle age. When asked his opinion, Paul Grieco, Riesling guru and partner of the Terroir wine bars, told the packed room that he probably would buy the Frankland Estate Riesling but found it "undrinkable" now and encouraged the producer to set aside production for five years and release it then.
It's no secret that Riesling turns a corner at some point during bottle aging process. Just when that happens remains the subject of collector and producer debate. But Michael Hill Smith, a producer (though not of Riesling), suggested at the tasting that Aussie Riesling closes down after about a year and a half and then reopens after about five years–a process that's slower under screw cap than it is under cork, he said.
But who will pay for that bottle age, producers or consumers? Only two producers in Australia currently pick up the tab, releasing wines with bottle age, Peter Lehmann "Wigan" and Pewsey Vale "The Countours." I really liked the 2005 Contours and apparently the "Wigan" was such a medal hog on the wine competition circuit Down Under that it was all but disinvited. So you might think that producers would get the message: hold back some wines and do a separate bottling. The wine business is just that, a business, as one producer present pointed out, and cellaring the bottles would tie up capital and increase costs to the producers. But if the Semillon producers of Hunter Valley can do it, why can't producers in Clare and Eden Valleys also do it?
A happy medium may be coming: off-dry Riesling. Even though leaving some residual sugar in the wine (by not converting the natural grape sugar to alcohol) can balance the high acidity of young Riesling, Australian producers have been reluctant to embrace the style. However, that may be changing as some younger producers are doing some halbtrocken style, as Hill Smith put it, "what's old is new again."
This fledgling group received validation when Jeffrey Grosset releasing his first off-dry Riesling in 2010. Because he wasn't in NYC this week–and neither was the wine–I sent him an email to ask him why he had launched the new wine. Here's a snippet from his reply:
It seems that consumers and trade (both in retail and restaurants) are looking for alternatives to the classic dry style. This could be a result of the subtle cultural shift with our move to greater Asian influence in our food, or in a more dynamic or less structured approach to wine or perhaps just a case of looking for something new or different, but there is certainly a lot of interest in high quality off-dry Riesling coming from those involved in the food and wine scene. This is potentially quite exciting because we have a younger generation that is not prejudiced by the old adage of sweet being cheap. The challenge as producers is to excite not disappoint, by creating balanced flavoursome wines irrespective of sweetness level. And, of equal importance to communicate clearly to the consumer what they should expect; how the combination of sweetness and acidity will taste. This need for clear concise labelling is a major challenge at the moment, and needs attention.
Australian Riesling as a category seems to be turning a corner, becoming more layered. Like a good bottle, it will be fun to check back on it in five years and see how it has changed.