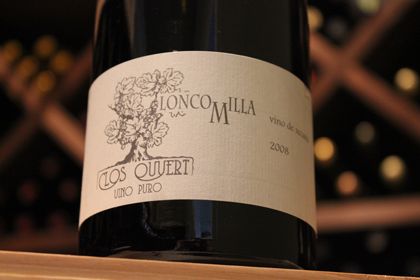 In a recent column on Slate.com, Mike Steinberger threw most Chilean carmenere under the oak bus. Many of the wines in his tasting, "lacked personality and depth, and some were jammy, hideously oaky confections that were indistinguishable from other, similarly afflicted New World wines." I'd also add that some of the ones that I've had carry an unwanted sweetness, probably from the oak and alcohol.
Behold a savory and delicious carmenere: the Clos Ouvert Loconmilla 2008. In his article, Mike encouraged Chilean producers to pick up a bottle of it in his article, and, even though I'm not a producer, I did so, buying a bottle at Grapes the Wine Company in White Plains, NY (about $26). The wine is made by a pair of Frenchman, using organically cultivated old vines and with a gentle hand in the cellar, notably using old oak barrels over new. In the glass, the impressive aromas enticingly intertwine some dark fruit notes with a whiff of dried herbs and a lot of intrigue. Although the wine lists 14.5% alcohol on the label, it carries the alcohol well thanks to good balance and acidity that enlivens the palate. On day two of being open, this wine had just as much intrigue as on day one, always the mark of an excellent young wine.
A final note for those of you who are into global wine logistics: the wine appears to have been bottled in France since it has a French tax stamp on the top of the bottle. No response was forthcoming to an email to the producers seeking clarification on this minor issue.