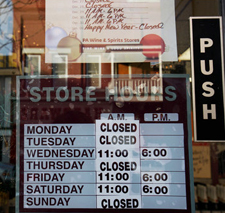 Blend $4 billion in deficits with a new Tea Party governor. Squeeze in a full Republican legislature. Shake and garnish with consumer bitters.
Will this stiff drink, now on the table in Harrisburg, lead to the end of the PLCB? The state-run system that bestows such snappy names on its wine stores as #5801 is in a rough patch. As seen in the picture at right (and the accompanying Times story details), the opening hours of this store are limited and the prices, selection and knowledge of the staff may not be all that great either at some state-owned stores. The new kiosks have bombed. Consumer dissatisfaction may be growing as is chatter about privatization. Even though previous governors have floated the idea only to meet with failure, the stars seem to be aligning for reform. While this is something most Pennsylvania wine consumer would likely raise a glass of hard-to-find wine to, the logic that will carry the day for public officials is about money.
The libertarian think-tank, Reason, published a 2007 white paper on PLCB privatization that brings up many good points. (Ah, the PLCB, it's enough to turn liberal wine drinkers into libertarians.) The report suggest that over half of the PLCB revenues come from taxes, which would continue to flow regardless of state or private ownership of stores and distributorships. Further, the state's costs would decline with the reduced workforce and pension obligations while the state's revenues could increase from taxes on the new businesses, which include over 600 locations that are state-owned (thus not generating real estate tax for municipalities).
As we discussed last year, privatization can be botched. Indeed, Iowa and West Virginia got less than the early estimates in their privatizations. From a public policy perspective, it's crucial to rein in the windfall estimates and not to give away decades of future profits. So state officials should temper their hopes for a one-time profit buy auctioning licenses for shorter terms rather than longer given the weak state of the economy now. (If Pennsylvania authorities do decide to auction off liquor licenses, they should consider doing so in Hong Kong to get four times the going rate stateside.) Also, they could consider scaling license fees as a percentage of revenue to make it more accessible for small business owners. And on a related note, adding a bottle deposit would add hundreds of millions to the state's coffers, as I estimated a reform could add $200 million to New York's treasury.
And, please, for the love of Epoisses, allow food to be sold in wine stores!
Distributors are likely to want access to the sixth largest state and use their clout. Since the governor-elect does not appear to have distributors as major donors, he should use this independence to simultaneously push for a liberalization of shipping wine directly to Pennsylvania residents while collecting taxes.
Consumers also need to recognize that while a slothful public monopolist can fail to deliver the goods, private sector isn't always a panacea: even if a 7-Eleven offered better hours than #5801, would they offer better wine? And even in New York, I've encountered wine store clerks who don't know Chardonnay from Chenin Blanc.
If you are a Pennsylvania resident, what's your take?