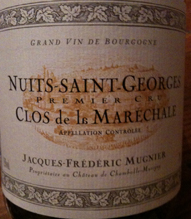 Ah, Christmas. Despite big meals on Christmas eve and Christmas day, Christmas food pairings get little attention from all those people who were so forthcoming with pairing advice on Thanksgiving. Perhaps it's because there's no national consensus on the menu. Or maybe those with pairing suggestions are all paired out. Either way, if you were celebrating Christmas or Festivus, what did you uncork and did it work?
If you care what the masses uncorked, you can always run a search on cellartracker, limited by dates opened, to see what cellartracker users opened. (Is it me, or is this list less interesting than the last time we took a look, for Thanksgiving last year?)
We opted for a younger wine this year, uncorking a Jacques-Frederique ("Freddy") Mugnier, Nuits St. Georges, Clos de la Marechale, 2007. The Mugnier estate dates back to the late 19th century and today the estate's crown jewel is a three-acre slice of filet mignon Musigny, which produces about three hundred cases of wine (that starts at $500 a bottle!). The past two generations have let other careers in banking, engineering and aeronautics get in the way–for shame! As a result, the family let others manage the properties and such was the case with the Clos de la Marechale, which Faively managed until 2003. This 2007 (find this wine) was showing well, with invigorating acidity, reticent fruit, and a good amount of NSG tannin on the finish. While we certainly enjoyed it (emptied!), it would likely benefit from a couple more years in the cellar–but it's hard to resist!