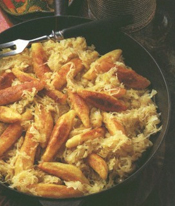 I finally got around to reading the food issue (Nov 22) of the New Yorker, and was amazed to find not one but two–two!–articles extolling the gustatory and health virtues of sauerkraut (sauerkraut!). In one brief piece, David Bezmozgis describes the making of this pickled cabbage as "part wrestling match, part science experiment." That's because after dumping the sliced cabbage in a large container, adding salt (about two tablespoons per head), the cabbage must be mashed or kneaded until it releases its juice, then kept submerged as fermentation occurs. The other, much longer article profiled Sandor Katz and his wild fermentations that transform, among other things, cabbage into kraut, rich in vitamins and isothiocyanates.
But does it taste any good? I went to my local farmers' market and bought a pint from a vendor. I also bought a loaf of organic bread from the excellent baker Wave Hill, and some microgreens. At home, I spread Dijon mustard on a slice, added some cheddar, heaped on the kraut, cherry tomatoes, and greens to make a sort of a cold, vegetarian, full-of-flavor, crunchy, tart riff on the reuben. Next up I will have to try Schupfnudeln, a regional dish (with an odd name) from southwestern Germany that amounts to homemade gnocchi fried up with bacon fat and sauerkraut.
What do you say? Help the fermentation foodies. Which wine would you pair with sauerkraut (in any preparation)–or is pairing fermented grape juice with fermented cabbage…impossible?