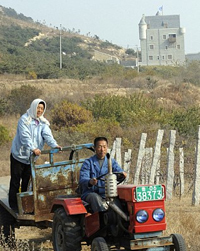 I joked yesterday on Twitter that no blog post seems complete today without mentioning either China or Lafite! So indulge me in one more post about the wine flavor of the month/year/decade….
News is out today that Lafite (DBR – Domaines Baron Rothschild) has left their Chinese importer and distributor, Summergate, after seven years. Jim Boyce in Beijing talked with Ian Ford, an American and founding partner of Summergate. Ford says that they rebuffed Lafite's offer to buy a stake of the company. Thus Lafite will be shifting their distribution to ASC wines (which is 70% owned by Suntory).
But the crazier story about wine in China is the one involving the building a Scottish castle, typhoons, explosives, and 600 tons of chicken poop. These are all part of various vineyard developments occurring in the Shandong province, which lies on the eastern coast. The Daily Mail (!) visits the location and files a fascinating story with many pictures. Lafite is among the players, developing a 50-acre vineyard (with 350 acres in reserve) in with the state-owned CITIC. (To make the terroir just right, the Daily Mail writes that "explosives are being used to smooth out the broad vine terraces.") Be sure to see Jim Boyce's local take on whether or not the site is as "grand cru" as some have claimed!
Also, enjoy this parting shot of the Château Changyu AFIP outside of Beijing.


Image 1: reduced size crop of image by Lou Linwel/Sinopix
Image 2: reduced size crop of image by Janis Miglavs