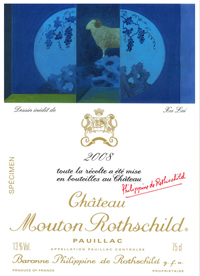 First, Lafite announced that the mandarin character for "8," considered a lucky number in China, would appear on bottles of their 2008s.
Now, Mouton has announced that art by the Chinese artist Xu Lie will adorn their 2008 labels. The signature Mouton ram is sandwiched between two halves of a moon adorned with grapes.
According to decanter.com, prices of the wine were £1,800 a case last fall before the rumor of a Chinese label. Now, they say, prices are £6,000 per case (about $10,000; a search wine-searcher free version yielded only results for Mouton-Cadet).
Who's pulling the wool over whose eyes?