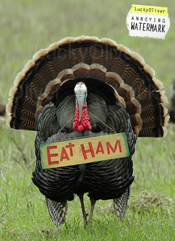 Ah, Thanksgiving, it has a habit of recurring once a year. And with it come questions about what to serve with a meal whose flavors range from a neutral turkey to the crazy sides of candied yams and cranberry sauce.
Let's make this an open thread to discuss all turkey-day wine questions. If you've never commented and have a query, now's your chance to say hi! I'll start the Butterball rolling with just two suggestions.
1. If I were having a lot of people over to my house for Thanksgiving (or were responsible for the wine at someone else's house), I'd have lots of wine, in a variety of styles. I'd make it a tasting for people who don't usually get to taste a lot of different things–red, white and bubbly–yet have some conventional choices for those relatives who don't want a real challenge. I'd keep the pre bottle price down, maybe even throw in a box wine, and budget about a half a bottle per adult.
2. If I were having a more intimate Thanksgiving with known wine enthusiasts, I'd have fewer, more expensive wines.
What are you planning on serving and what's your strategy? Also, is anyone having a non-turkey Thanksgiving–or is that heresy?