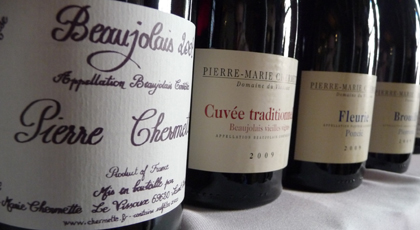 Beaujolais is in the air today–and not just because it is being dropped on an unsuspecting world via airfreight. It is Beaujolais nouveau day, a marketing contrivance that seems to have less impact every year.
But it's a good springboard for talking about the spectacular 2009s from the region's smaller appellations, known as "crus." I was initially skeptical, but have tasted through several and found them excellent indeed! The warm growing season resulted in richer wines but the best producers were able to keep the alcohol in check; if you haven't been a fan of the style in previous vintages, the 09s could have what it takes to bring you around to the pleasures of Beaujolais. Here are a few notable ones, deserving of a spot on your table, Thanksgiving and beyond.

Clos de la Roilette: Alain Coudert produced two stunning wines from his Fleurie vineyard. The regular cuvée has a gorgeous nose followed by delicious balance of fruit, freshness, and intensity that will convince many a Beaujolais skeptic. I bought a magnum of this wine for the biggest impact at my Thanksgiving table. The "cuvée tardive," visible from across the aisle thanks to the new neck label, is a superb wine to tuck away for a few years in the deepest, darkest spot in your cellar. It's more dense, structured and closed now than the regular bottling but will doubtlessly evolve into a a real stunner.
Marcel Lapierre: The first bottle of 2009 Lapierre Morgon seemed a bit high in alcohol to me and I wondered if there was a shift at the estate in that direction. But why would they mess with success? The second bottle I had was riper than the 06s and 07s, but still had the alluring aromatics, delicate structure and the lively snap of acidity that has been the house calling card for many a vintage. Although Marcel Lapierre died earlier this year, I'll save my remaining bottles of this wine to toast him in future years.
Pierre Chermette: Pierre-Marie Chermette always produces reliable wines from the Beaujolais on up to his crus; the 09s are particularly stunning. For immediate pleasure, try the Beaujolais; for later delight, tuck away bottles of his Fleurie, which exhibits a lot of complexity on the nose and the palate, yet is tightly wound today.
Jean-Paul Brun, Terres Dorées: Although not a cru, the Terres d'Orées, "L'Ancien" 2009 Beaujolais is a terrific value, ready to drink either on a weeknight, weekend, Thanksgiving or not.
Search for these wines at retail