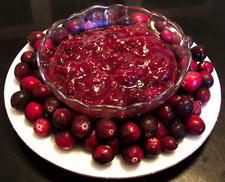 Nobody goes to a Thanksgiving meal and says, "Mmm, I can't wait to try the cranberry sauce this year!" But while it is not the center of the meal, it is a crazy component of it.
Ever since the Native Americans opened the first can of cranberry sauce for the pilgrims in 1621, it has been a part of the Thanksgiving meal. And ever since 1976, in the wake of the Paris tasting, we wine enthusiasts have been trying to pair wine with it–or find a wine that won't be demolished by the combination of natural tartness and the added sweetness.
So what say you: which wine do you pair with cranberry sauce…or is it impossible?!?