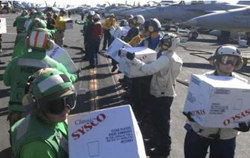 A Carnival cruise ship headed on a seven-day tour of Mexico's Pacific coast had a fire and was adrift for two days. Mexican tugboats and American Coast Guard and Navy ships have come to the aid of the 4,500 people on board Carnival Splendor. No one was hurt, but the AP reports that they were without air conditioning, cell phone service, and internet access! Here's more from the story:
U.S. Navy Seahawk helicopters were ferrying supplies, including Spam, crab meat, croissants and Pop Tarts to the ship from the USS Ronald Reagan, an aircraft carrier that reached the Splendor after it was diverted from training maneuvers to help.
My goodness, are they trying to rescue these people or kill them? Pairing those with wine sound…impossible! (Crab meat is the easiest by far, though.) So in this emergency edition of our impossible pairings, consider which wine you would send these marooned vacationers to pair with their emergency rations and plight. Which wines would you send along if you were the Coast Guard sommelier?
reduced size crop of AP/Gregory Bull image.