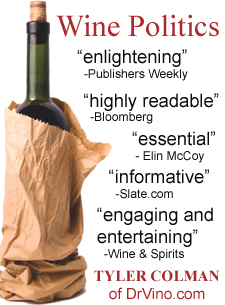 My book, Wine Politics: How Governments, Environmentalists, Mobsters and Critics Influence the Wines We Drink, is now available in a new version: paperback! Not as lightweight as the existing Kindle edition and about the same weight as the Korean translation, the paperback is at least lighter–and cheaper!–than the original hardback edition.
Get background information and analysis on important wine topics such as why French wine advertisements aren't allowed to show women looking sultry, how appellations can strangle originality, and why it's easier to ship a case of wine from Bordeaux to Berlin than from Napa to New Jersey.
I'm giving away three personally inscribed copies of the new paperback to three people here! To qualify, leave a comment on this post noting the state or country where you live and if you're happy with the ability (or not) to have wine shipped to you. Fortunately, books can be shipped to all 50 states but we request domestic addresses only for the giveaway; leave your comment by midnight Thursday to qualify for the drawing of three random winners on Friday.