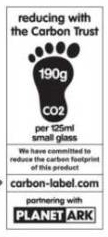 Starting early next year, some consumers will be able to buy a wine with a carbon footprint analysis on the label. Mobius, a new sauvignon blanc from New Zealand's Marlborough region, will sport a calculation of greenhouse gas emissions on a per glass basis. Bottles destined for Australia will be the first to receive the notations; other markets will follow with custom calculations from the Carbon Trust, a nonprofit. The wine is made by New Zealand Wine Company, which also owns Grove Mill, run by emissions-guru Dave Pearce.
With so little space on the label, the graphic and number are helpful for a cursory indication. But it would be even more useful if carbon-label.org provided more information about the calculations. Hopefully the estimates will be conservative since, as my own research has shown, the mode of transportation matters as much or more than the actual distance traveled, making it difficult to put one number on a bottle for countries as big as Australia or the US, where a lengthy truck journey can add more to the GHG calculations than an even longer sea voyage.
Providing the methodology is acceptable, it is a step in the right direction. Given that wines entered in the Air New Zealand Wine Awards must now be certified "sustainable", perhaps the industry will similarly provide some sort of carrot for other wineries to adopt carbon emissions labeling.
See the full label after the jump.