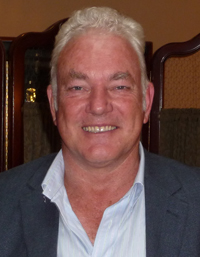 Ken Forrester likes Chenin Blanc. Just don't call it Steen.
His Stellenbosch vineyards, four miles from the ocean, are planted 50% to Chenin Blanc, also known as Steen locally to people other than Ken (he finds the local name too confusing.) In his opinion, the best Chenin needs cool and sunshine, which may sound like a paradox. But Ken says that's what happens in the best years in the Loire, which is often cool, and in South Africa, which has abundant sunshine and a few cooler vineyard sites.
When I saw him at a Wines of South Africa tasting in New York City on Wednesday, I asked him if Chenin blanc was a difficult grape. He said that it is like a cat: when you call it cat, it looks at you quizzically, then an hour later he's there rubbing your leg with a look saying, "you called"? Same with Chenin: you put it in barrel and taste it and it doesn't taste like much right away. But when you come back in six months, it has transformed, leaving you wondering, "Gee, where did that come from?"
I tasted his 2000 Chenin Blanc, a $14 wine with ten years age on it. The primary fruit had fallen away, leaving an interesting, if somewhat linear, wine dominated by an a stony version of unsweetened honey.
The FMC 2008 (about $65), comes from unirrigated, low-yield, 42-year-old bush vines, grown organically (but uncertified since 2002 because of onerous fees, Ken says). Fermentation uses native yeasts and the wine is aged in 400-liter barrels. It's a big version of chenin, rich but stylish, silk-pillowy, with honey drizzled on top. (For the tech specs, it has 14% alc, Tartaric Acidity 6.8 g/l, and 12 g/l residual sugar.)
Here are the top four thing Ken would do if he were "boss of the world"!
1. Prohibit corks.
2. Prohibit that hard plastic wrap on consumer goods that you need a pocket knife to remove.
3. Prohibit mechanical harvesting in South Africa. The machines are imported from France and Italy, and catch lots of bugs, chamelons and spiders as well as grapes. Morever, the country is in desperate need of employment and the workers do a much better job.
4. Have gradations for Pinotage akin to Rioja (crianza, reserva, gran reserva) to indicate at a glance the degree of seriousness of the wine.