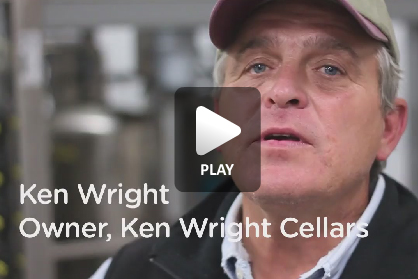 Ken Wright of Ken Wright Cellars has a video interview on the tech blog Gizmodo. Why would this graybeard of the Oregon wine industry and godfather to the biggest little wine town in Oregon (Carlton) be talking to a tech blog? He discusses using a vacuum concentrator to reduce unwanted dilution in juice after late-season rains, which can make the grapes waterlogged prior to harvesting. (Depending on desired ripeness, picking before the rains may or may not be another option for avoiding bloated grapes.) The device, imported from Italy, essentially reduces the wine to below atmospheric pressure, allowing for low temperature boiling thereby removing the excess water from the tank and leaving a more concentrated juice behind. Gizmodo mentions that there are at least a half-a-dozen other vacuum concentrators in Oregon.
Wright elaborates on why the machine is a good thing: "We spend a year of our life farming. It seems really silly to accept something sub-standard when you can make a difference, when you can do something to heal the issue."
I give Ken Wright a tip of the ol' winemaker's baseball cap for detailing a part of his winemaking practices: What happens in the cellar is not discussed often enough in detail (indeed, even his own web site espouses minimal handling in the cellar).
What do you think, in general–would you rather have a machine-concentrated wine from a waterlogged vintage or the wine that mother nature intended?