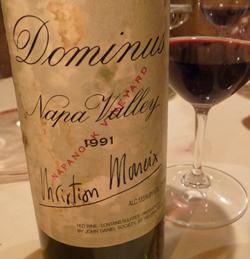 It may seem absurd to write a post in praise of mature wine–indeed, it's one of those things, like sunny days and flowers in bloom, that people aren't exactly rushing to oppose. But sometimes we still need encouragement to take time to smell the flowers and such is the case with enjoying mature wine. It has come up a few times in (offline) discussion that I have been in recently: do people still cellar wine? Is mature wine relevant? And, most pointedly, why do young people hate mature wine?
Drinking mature wines has many inherent risks. As with a young wine, the wine could be "corked," or unredeemably musty smelling. (But the rate may actually be higher than with young wines since the cork industry has taken some steps to reduce cork taint in recent decades.) Storage conditions are often an unknown variable with mature wine, especially if you are purchasing the wine; improper storage conditions may prematurely advance the wine, or dry out the cork, allowing oxygen in (a symptom that is sometimes visible by wine trickling out).
But once you get a good bottle, it can be so, so good. At Christmas last year, we had a superb bottle of 1992 Chateau Montelena Estate Cabernet. I decanted it and the aromas alone made me want to plunge in head-first. Similarly, a 1991 Dominus that I had recently that was out-of-this-world delicious. Or a 1978 Ridge Geyserville Zinfandel that seemed more akin to a gorgeous northern Rhone than a brawny, young zinfandel.
Of course, I've had many European wines with age in recent months that have been stunning. But I think it's worth pausing on California wines since it gets to the question of young people and old wine. I find that people under 40 (if we are still considered young) are fascinated by older California wines because they represent something different than the current releases available from America's most productive state. The cabernets are from a largely bygone era, one of lower alcohol, less extraction and more subtleties than power. Moreover, many of them can be found, with some digging, for equivalent to or lower prices than top wines today from California. The trouble is that they have to be sought out and treated with care and do, of course, carry more storage risks.
So, yes, mature wine is relevant–how could it not be? It is so often apogee of the wine experience. While I absolutely relish a current release wine with dinner, it's the hunt of finding a mature wine and the anticipation of opening it on a celebratory occasion that make it such a memorable experience. And uncorking them can be a walk down memory lane, or, as it was for me tasting some spectacular Madeiras from the 18th and 19th century and German Rieslings spanning the 20th century recently, gorgeous time capsules to glimpse way back in history.
Between now and New Year's Eve, I encourage you to try some mature wine, say, a wine with ten years age on it or more, especially if you're not in the habit of doing so.
One way to do this is to try it a Rioja. On our anniversary last year, my wife and I enjoyed a 1981 Lopez de Heredia, Bosconia, gran reserva, a delicate, gorgeous wine that evolved with each course we ate. Given the winery's history for extended bottle aging, the wine is available today–and under $100 at a store.
Another way is to find a reputable store that sources collections. For example, Chambers Street Wine in NYC recently offered a treasure trove of old, intriguing Italian wines and even went so far as to offer a credit for any bad bottle, something that instills tremendous confidence for consumers. Auctions can also yield some finds.
Putting together a dinner is always a great idea too. Selecting a theme that you want to explore and having several people over each bringing a mature bottle is a terrific way to try several bottles for the price of one. Similarly, many stores organize dinners of current release and library wines, often with a winemaker. In my inbox recently, I've seen offers to dinners in NYC ranging from $75 – $195 at fun and/or top restaurants with lineups of wines stretching back to 1978. And on Twitter, there have been some casual BYO dinners circulating. Attending any of these dinners has the upside of meeting fellow wine geeks.
Just as it is advisable to play tennis with someone better than you to sharpen your skills, it is also advisable to find a generous friend who has a better (or, at least) different cellar than yours.
While you are enjoying some mature wines now, don't forget to stash a few things away: Fortunately, age-worthy wines don't have to break the bank. Riesling, top Muscadet, cabernet franc from the Loire, top chenin blanc, some variations of Nebbiolo all are affordable yet age-worthy.
I hope to write up more of my mature wine experiences here going forward. Hit the comments with your thoughts and experiences.