SIPPED: wine on tap
Last week, New York magazine called self-serve wine tanks brilliant and highbrow. This week, their restaurant critics round-up the bourgeoning offerings of wine on tap. Fun as taps can be, let's hope the cost savings are passed on to diners! [NY mag]
SIPPED: in vino, Veritas?
The NYC wine shrines Veritas and Cru, have closed according to the NYT. Grub Street reports that the lease for Veritas has been taken over and will now be a more casual place (with wine on tap?).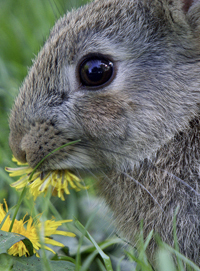 SIPPED: one for the road
A press release claims all 50 states (plus DC!) now allow diners to take unfinished wine with them from restaurants.
MUNCHED: Bordeaux 2010
Rabbits have descended on some vineyards in Bordeaux, one reporting 15 percent of the crop being eaten. At least some critics already like the 2010 vintage! Although "two paws up" was probably not the endorsement many property owners were seeking. [myfoxhouston.com]
SPIT: Strange brew, grand cru?
A British consumer claims to have found a frog in bottle of (Spanish) wine she was drinking. She has sued the retailer Asda. Ribbit! [Harpers.co.uk]
SIPPED: drinks?
Pregnant women can have a drink or two a week without harming the baby according to a study published today in the Journal of Epidemiological and Community Health. The study used data drawing on 11,000 children. [Bloomberg]
SPIT: anonymous comments
Charles Smith, owner of K Vintners, has sued anonymous commenters on a Blake Gray's blog. Get the details and analysis of the "Streisand effect" from Felix Salmon on Reuters.
SIPPED: ghost writing
Utah's Atty General calls a beer industry lobbyist who drafted his recent testimony on HR 5034 simply "a scribe or secretary." [WSJ]
SIPPED: one more reason to die with an empty cellar
UK Revenue agents are cracking down on valuing wine collections in estates at market value, not the cost basis. [FT]