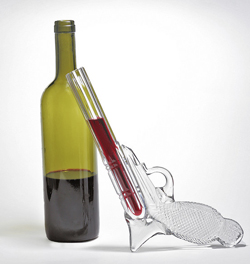 Three hundred people a week are injured in "glassings" in British pubs. The rate is so high that doctors have recommended substituting plastic tumblers for all glasses. In two test cities where the switch has been put in place, the incident rate has declined sharply. (I guess Riedel needs to think about making a plastic pint and plastic, stemless wine cups.)
What would happen if guns were allowed in bars and restaurants? We will find out here, apparently. According to a NYT story from Sunday highlighted a change in four state laws that now allow loaded weapons to be carried into bars and restaurants. Twenty other states, including New York, have legal gray areas and thus could be up for a challenge soon from gun-rights groups.
There is a catch, however that's possibly more important than a trigger lock: those carrying weapons cannot drink alcohol. That does give a slight twist on the ordering process: will waiters now have to ask if you're armed before they serve you? Red or white? Packing or not? And what about winery tasting rooms? The Tennessee legislator who sponsored the bill there highlighted the need for security between car and the restaurant. So if a winery visitor wanted to pack heat before tasting some fruit bombs, would he or she have to check the gun at the door? How would this affect the tasting room experience? Should wineries ban guns?
Have your say in the comments or the latest poll!


Loading ...