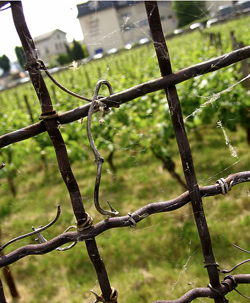 Vineyards have their pests: consider the baboons, rattlesnakes and bears we have discussed before as well as birds, deer and other vermin. But the latest threat is a human one: roving bandits.
Across three countries in recent weeks, grapes have been illicitly picked off the vines. In Washington State, 2,000 pounds of mourvedre grapes were stolen in what the vineyard manager described as "a professional job – a complete and clean illegal harvest." In Germany, grapes destined for a small production wine called Sintfang-Cuvée were found missing a day before the scheduled harvest. And in the Languedoc, according to the Telegraph, one farmer had 35 tons picked clean, wiping out his annual crop.
Are these incidents related? It seems a far-fetched that there's an international grape heist gang in operation. But that's what an unnamed French detective told the Telegraph that "a wine mafia gang" targeting "some of the best grapes." He elaborated: "We are undoubtedly dealing with the kind of upmarket criminals who steal old master paintings and antiques to order."
Really? There was the attempted vine poisoning/extortion at Domaine de la Romanée Conti earlier this year and that surely qualifies as one of the best vineyards in the world. But 35 tons of grape with a value of $20,000 as was the case in Languedoc? A German wine that is not even commercially available but rather given to the town councillors? These hardly sound like "some of the best grapes" in the world. At any rate, it is sad to see the fruit illegally plucked from the vine.
Will this outburst lead to the rise of Chateau Razorwire, a fenced vineyard with a panopticon in the center? Of course, back in the day, some of the best vineyards in Burgundy were "clos," or walled vineyards. Chateau Razorwire would have a tad less charm.