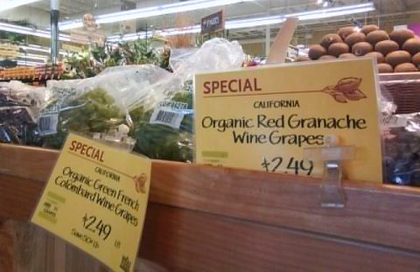 The Whole Foods Market in Winston-Salem, NC, sells wine grapes by the pound. $2.49 a pound for "Organic Red Granache (sic) Wine Grapes," "Organic Green French Colombard Wine Grapes," and "Organic Black Carignane Wine Grapes." Taste the difference, pre-wine! Or maybe it is another DIY wine thing?
Even though the store sits on the edge of the fastest-growing wine region of the country, the grapes are from California.
Thanks, Mark, for the cameraphone pic!