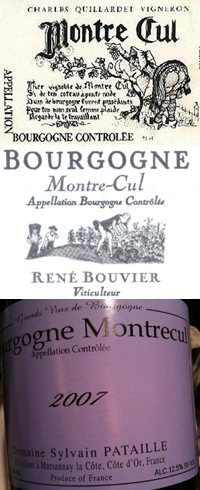 Where can you find a growing area called "show your ass": Santa Barbara, Barossa, or Burgundy?
If you guessed Burgundy, you're right! The Bourgogne Montre-Cul (or Montrecul or en Montre-Cul) vineyard/appellation lies at the north end of the Cotes de Nuits, near Marsannay. According to legend, the slopes were so steep that when the women pickers bent over to pick the grapes, they gave everyone below a bit more of a view than just the hills. While this may sound like Hugh Hefner's vineyard playland, the women were likely of somewhat sturdier stock than those you'd find at the Playboy Mansion. (Montre Cul really does sound like it's something out of the French equivalent to John Cleese's Hungarian phrasebook. Diner: "Je voudrais un Montre Cul." Sommelier: SLAP.)
I learned of this appellation while tasting Sylvain ("The Sylvainator") Pataille's tasty 2007 red wine from the region. There are not many acres of vineyard left in the tiny region, which has largely been engulfed by Dijon. As you can see to the right, his label is a little less artistic than other depictions.