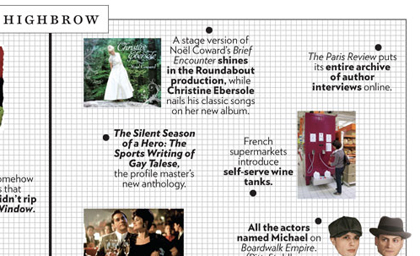 Do you want a self-serve tank that dispenses low-priced wines in a store near you? Apparently a ton of people do as lots of non-wine sites linked to a recent post here, hundreds of people commented via twitter, and over 5,250 people "liked" it on Facebook.
The reception was very positive with many comments akin to "I am moving to France–TOMORROW." or "I want one of these in my kitchen." Perhaps the ultimate compliment came from New York magazine which put the tanks on their approval matrix in the "highbrow-brilliant" quadrant in today's magazine. The only thing more brilliantly highbrow was the Paris Review putting their entire archive of author interviews online! (Good thing they didn't see a subsequent here about pairing wine with bacon doughnuts–oh wait, that dish came from them!)
Why do you think this post resonated so much, particularly outside of the wine world? I think that part of it had to do with the fact that Americans are really getting into wine but can certainly do with out the pompousness. Also, it is kind of a Nirvana to find a fountain of good, cheap wine. There's certainly the environmental angle too. And then it is also just a little bit zany.
But for whatever reason, the enthusiasm for the posting shows an appetite for such dispensers in the US. Who will be the first to implement this here–Whole Foods? Trader Joe's? Safeway? Binny's? Whoever it is (and one person in the industry tells me he's working on it), they can certainly be assured a lot of media coverage.