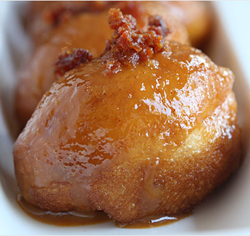 Site reader Anderson Farris sent in this suggestion for our series: a bacon doughnut.
The particular bacon doughnut in question is from the NYC restaurant Traif. A chef described the dish thusly to nymag.com:
"…The bacon doughnuts with dulce de leche and coffee ice cream are, like, so fucking good. It's a sugary doughnut with bacon fat in the batter and rendered bacon pieces in the doughnut itself. With the dulce de leche and coffee ice cream, it's pretty kick-ass."
Wow, that is a whole lot of dulce, with a bit of fat and salt. Are we even allowed to pair that with wine? Or is it…impossible?!?
Image: reduced size crop of photo credited to Melissa Hom at nymag.com