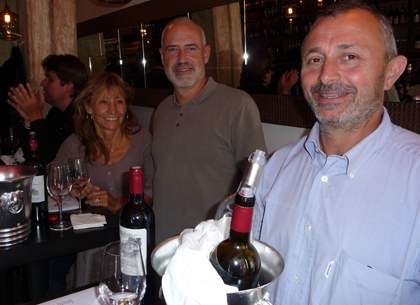 Above – Patricia and Pierre Bernault from Chateau Beauséjour whose wines are now available in the US market for the first time as of five days ago. On the left, Pascal Collotte of Chateau Jean Faux.
Enthusiasts of French wine often either love Burgundy or Bordeaux. For Daniel Johnnes, who imports many Burgundies as well as organizing the annual celebration of fine and rare Burgundy known as La Paulée, it's pretty clear where his allegiance lies. The only catch: he's just started importing Bordeaux.
I stopped by his tasting on Tuesday at Terroir Tribeca where the handful of new wines he's importing were on display. Of note, the charismatic vigneron Pascal Collotte makes a solid red (merlot-cabernet franc) and a rosé from his 30 acres in the Entre-Deux-Mers region; The Bernaults, of the 30-acre Chateau Beauséjour in Montaigne-Saint-Emilion, make a merlot-cabernet franc blend from 45 year-old vines.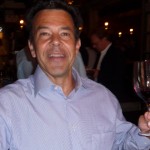 Here's how Johnnes (right) describes his new venture, sourcing Bordeaux from outside the traditional négociant system.
"My goal was to break away from the pack that is bashing Bordeaux. The cool thing now is to love natural wine from the Loire. I've seen some sommelier friends do high fives over the fact that neither one has been to Bordeaux. But not all natural wines from the Loire are good, just as not all Bordeaux wines are bad.
These Bordelais are small growers, with a similar respect for the land as in Burgundy. They act as minimally as possible: the wines are unfiltered, low yields, with minimal handling and sulfur.
That's hard, especially at these prices–you're not going to get this level from California at this price ($12-$30).
I'm not going over to the dark side, I'm just saying "open your eyes and keep an open mind."