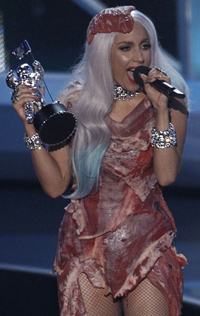 Ah, meat. You'd think this one would be a no-brainer for pairing with wine as so many of the full-bodied reds made today are natural wine pairings.
But we don't like to make it easy for you–that's not impossible, after all!
So here you have it: raw (unspecified) meat that has been on Lady Gaga's body in the form of her meat dress. Which wine would you pair with that?!? If you want a little less to, er, digest, you can keep the pairing at the sartorial level.
Funny, but the dress wasn't on display during New York Fashion week, rather, the MTV Video Music Awards.