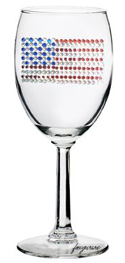 The August 30 issue of the New Yorker contains a much-discussed profile of the Koch brothers, the billionaires bankrolling the Tea Party and libertarian organizations. But who wants a Tea Party when a Wine Party would be much more fun?
The words "billionaire" and "Koch" are familiar to ardent wine enthusiasts; the book The Billionaire's Vinegar depicts William Koch, industrialist and disgruntled wine collector, as a lawsuit-wielding sheriff bent on ridding the fine wine world of counterfeits. However, the brothers in the New Yorker story are actually Charles and David who still control Koch Industries; after acrimony came to a head in the family company, they bought out William (and his brother Freddie) in 1983. Litigation simmered among the brothers for the following seventeen years.
Taking a page from his brothers' playbook, what if Bill were to fund a Wine Party, bent on liberalizing the country's wine shipping laws? He has already burnished (or tarnished, depending on your perspective) his reputation with high-end collectors. But restrictive interstate shipping laws plague wine enthusiasts in many states. Although there has been a greater liberalization of shipping laws from wineries to consumers in the past five years, laws governing wine retailers-to-consumers remain much more restrictive with only about a dozen allowing the practice. This stifles innovation in wine retail and reduces selections to broad swathes of consumers, while keeping prices high in many markets. Judicial challenges remain the key weapon in this fight and Bill Koch has much experience in litigation.
Further, wholesalers of beer, wine and spirits have initiated a legislative campaign to freeze wine shipping laws as they are. While this effort seems be going nowhere, they will doubtlessly return in the next legislative session and probably be better prepared. Thus having financial largesse on the pro-shipping side would make this a more formidable fight in the legislative arena, where, all too often, money counts for more than votes. But citizen unrest can be fomented with some Champagne bottles sabered as effigies of unblocking the system. Above all, the wine party would not just have to be against interstate shipping laws but could be for many things, such as discussion, eating (come on, who is anti-eating), and, of course, truth!
Bill Koch has already written himself into the story of fine and rare wine in America. By diverting a portion of his wine funds to this more populist approach, he could earn the adoration of Joe Wine Sixpack.